Need a fun and easy activity to keep the kids busy this Halloween season? Try building these candy pumpkin catapults!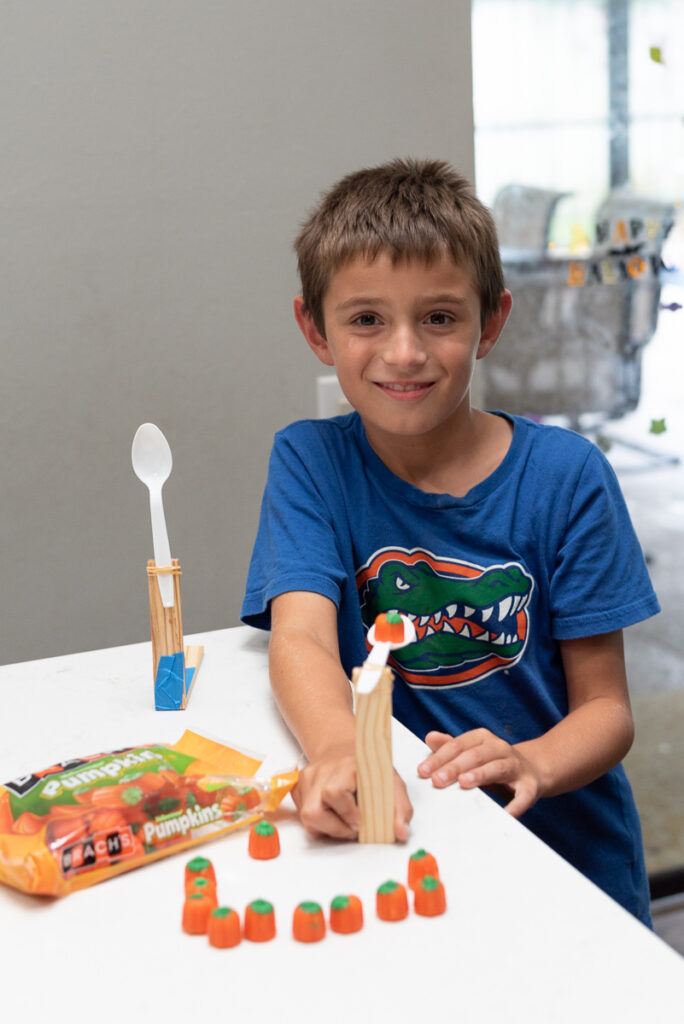 Jump to:
Halloween is one of my favorite Fall holidays! And that means lots of Halloween inspired activities. From decorations to crafts to costumes. And yes, even science experiments.
So when we picked up a bag of these tasty candy pumpkins last week, what did we do? Well, build pumpkin catapults and launch them around the house. Obviously.
This pumpkin catapult activity is a:
Quick and easy Halloween STEM activity.
Fun engineering project!
Perfect project for elementary and middle school aged kids.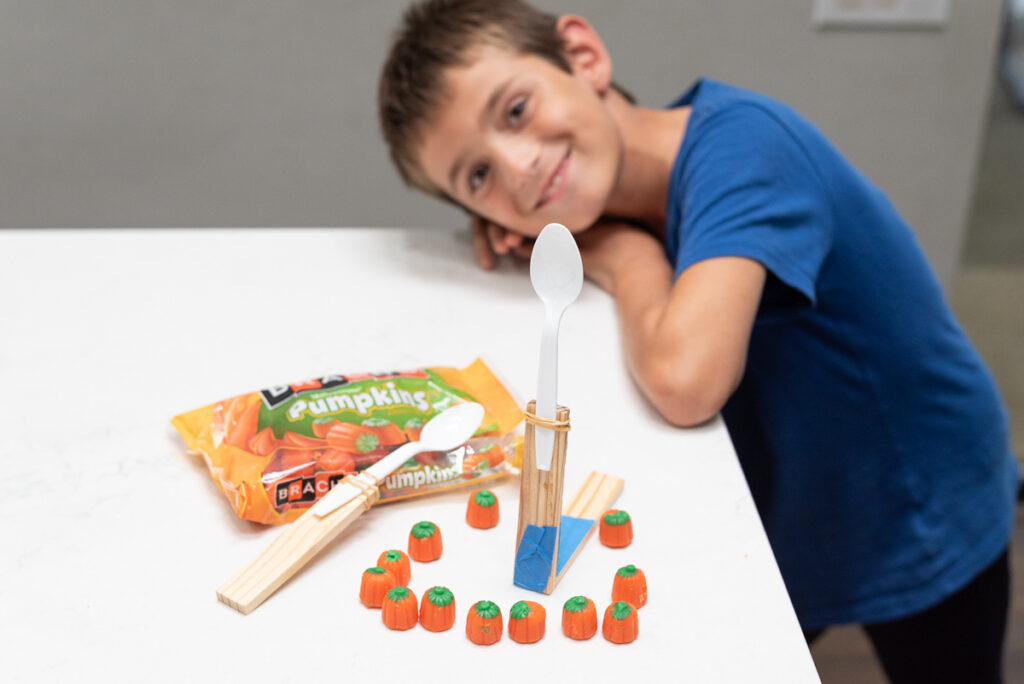 How to Make Pumpkin Catapults
The best part of this project is that you can use any materials you happen to have on hand to build your pumpkin catapults!
In our case, we used just three things: a few Jenga blocks, rubber bands, and disposable spoons.
But we've built catapults in the past with the help of things like pipe cleaners, popsicle sticks, and even elastic hair ties in place of rubber bands.
So simply gather up a pile of supplies and let the kids go to work building their own pumpkin catapult - any way they like!
Build a few different designs and take turns launching your candy pumpkins! Which catapult design launches the pumpkins the farthest? Why do you think that design works best?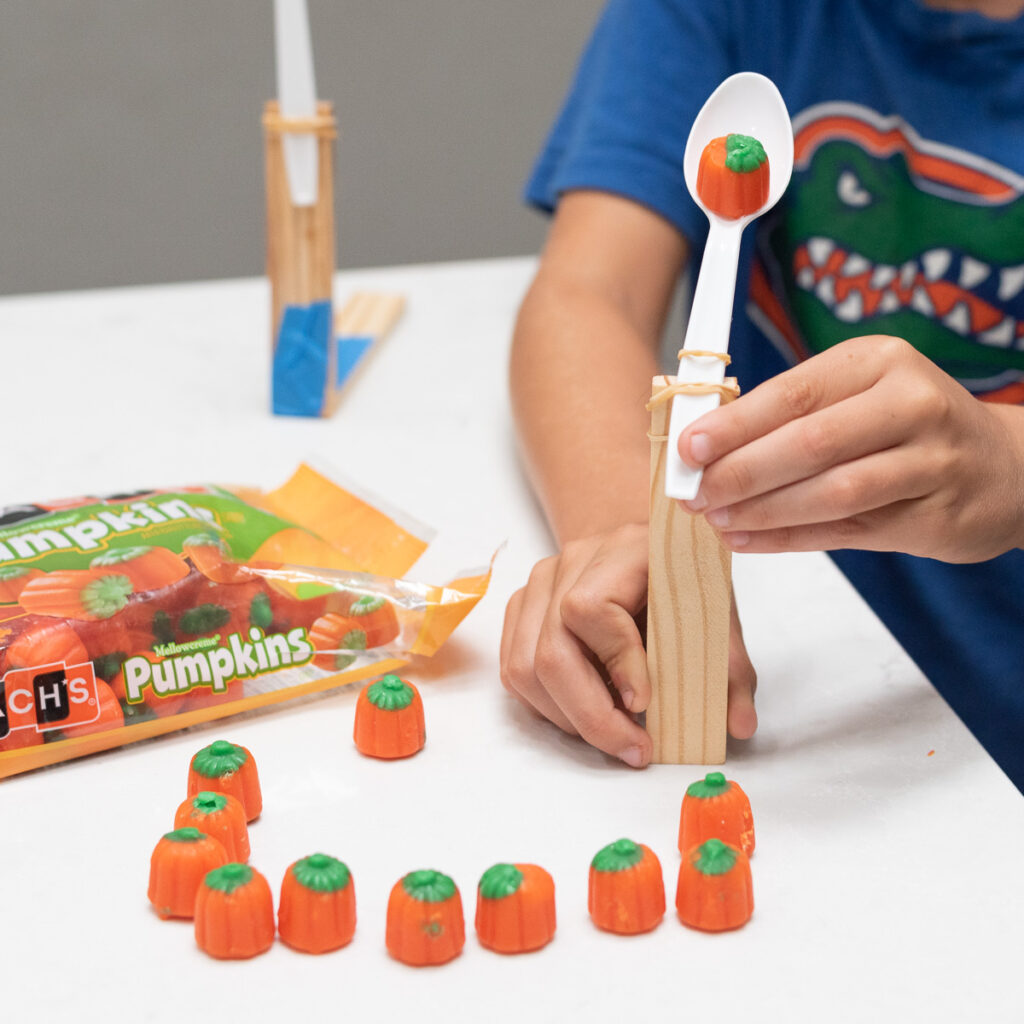 What did we learn?
These pumpkin catapults are all about engineering skills for kids! Observe which materials work best for your catapult designs? They need to be strong enough to hold the candy pumpkins and provide enough tension to launch them too!
Expand the Experiment
Try constructing a variety of catapults from different materials and with different designs. Test them to see which designs and materials can launch the pumpkins the farthest.
What else can your catapults launch? Try launching candy corn or ping pong balls instead of pumpkins. Does the catapult work? Do these items go as far as the pumpkins? Why or why not?
More STEM Activities
If you love these candy pumpkin catapults, be sure to check out these other great ideas:
Candy Pumpkin Catapults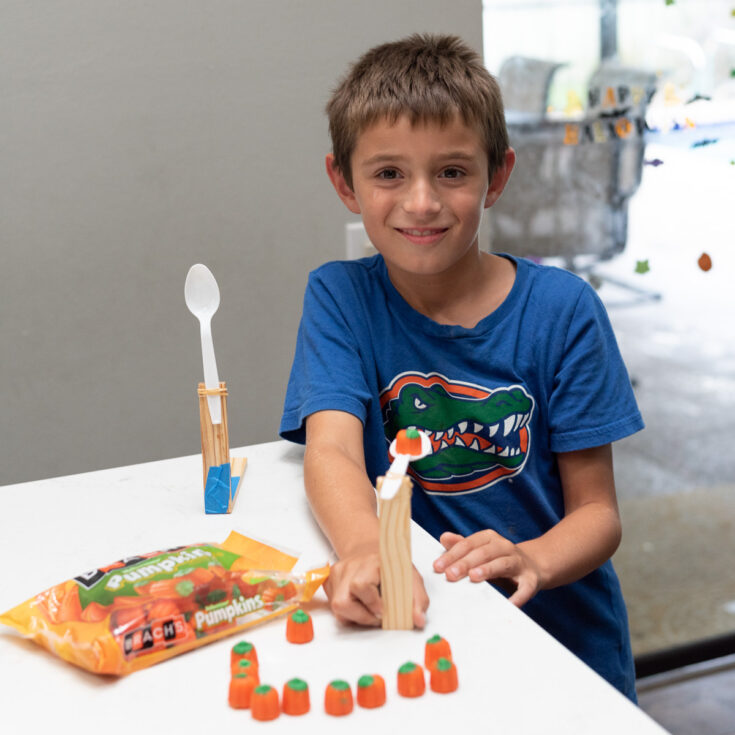 Need a fun and easy activity to keep the kids busy this Halloween season? Try building these candy pumpkin catapults!
Instructions
Gather up your catapult building supplies, and have fun constructing your very own design. For our design, we simply tethered a disposable spoon to a Jenga block using rubber bands.
Build a few catapults so you can test them against one another.
Load the catapults with candy pumpkins, and launch!
Notes
You can build your pumpkin catapults from any supplies that you have on hand. Try using craft sticks and pipe cleaners as well.
Recommended Products
As an Amazon Associate and member of other affiliate programs, I earn from qualifying purchases.