Looking for a quick and easy indoor activity to do with the kids? Try building these easy wind powered cars, and having yourself a grand race on the dining table. All you need are toy cars, a few basic craft supplies, and a hair dryer!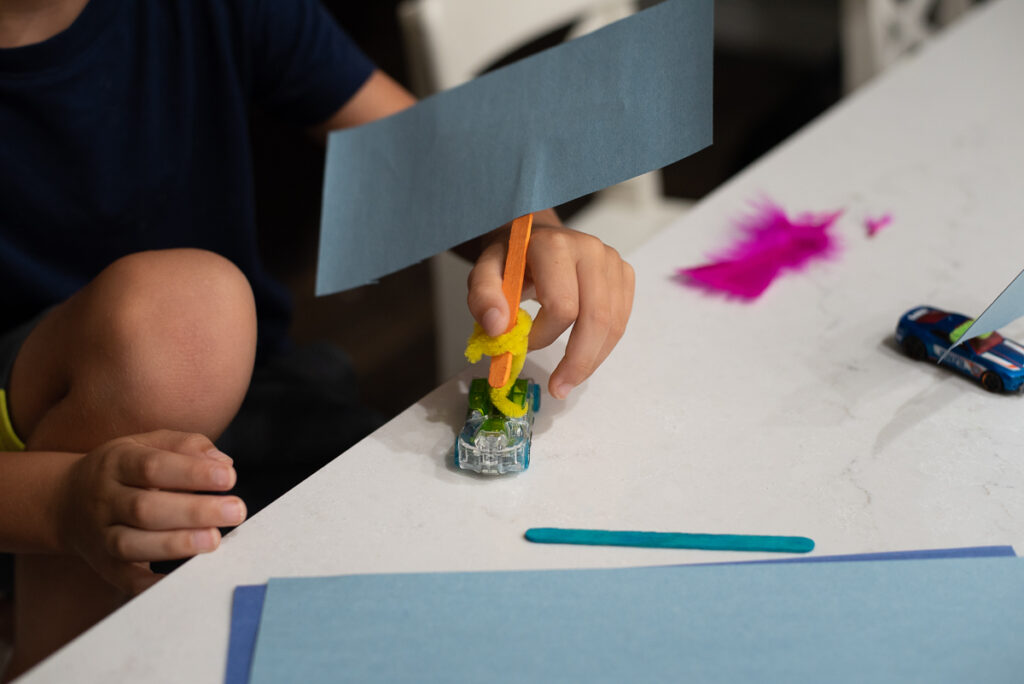 Like much of the world, we've been spending a lot more time in the house these days. And that includes nine weeks of online kindergarten. Yikes!
So we've started to get creative with some fun experiments for kids, to keep the little man entertained.
He LOVES cars. And buses. And planes. Basically anything with wheels or wings.
So we made ourselves these fun wind powered cars, and had ourselves a little race - powered by my hair dryer.
This activity is:
A fun STEM activity for elementary aged kids (or younger with more help from parents).
Really quick and easy to set up.
Uses items you probably already have in your house!
Let's get started!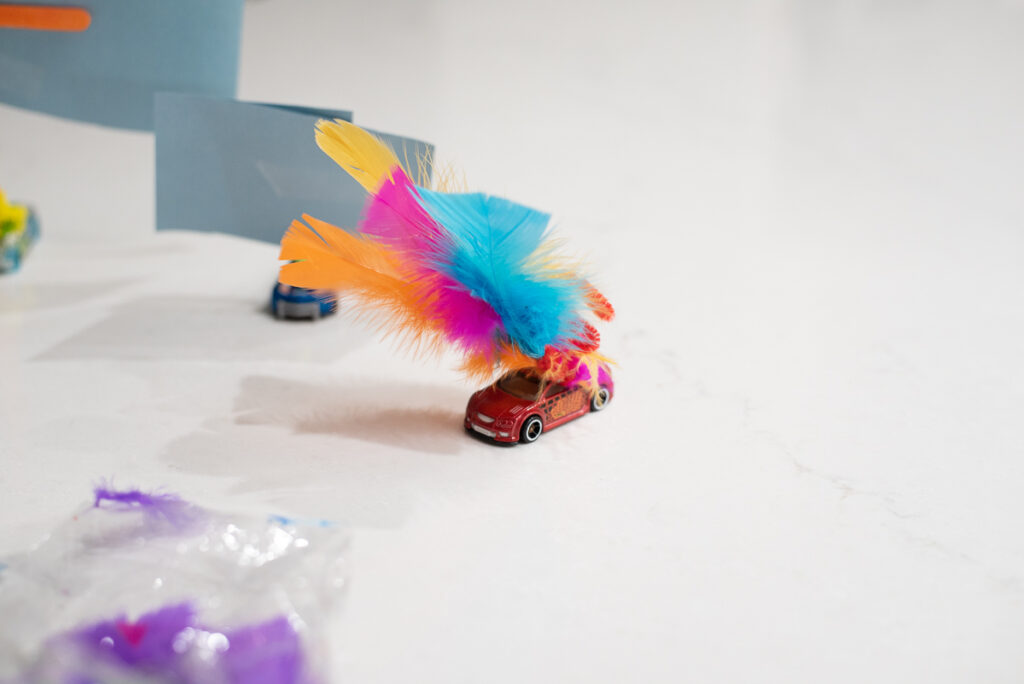 How to Make Wind Powered Cars for Kids
It's super simple to make these wind powered cars. Simply start off with whatever toy cars you have in your house. We have enough Matchbox and Hot Wheels cars to fill a dump truck, so I went with those.
Gather up your craft supplies, and get to work fashioning a variety of "sails" to drive your wind powered car.
Use things like popsicle sticks, straws, or pipe cleaners to make the mast.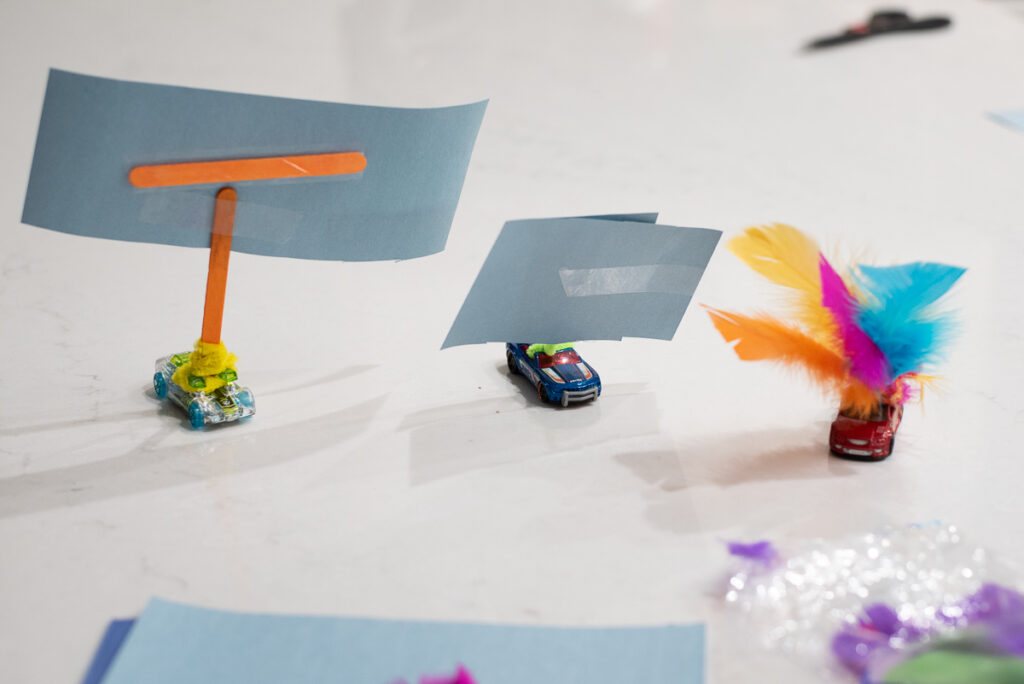 And then use construction paper and accessories like feathers and ribbons to make the sail. Really anything goes here - so just look around the house and get creative.
Once your wind powered cars are assembled, line them up and get the hair dryer ready. Then blow!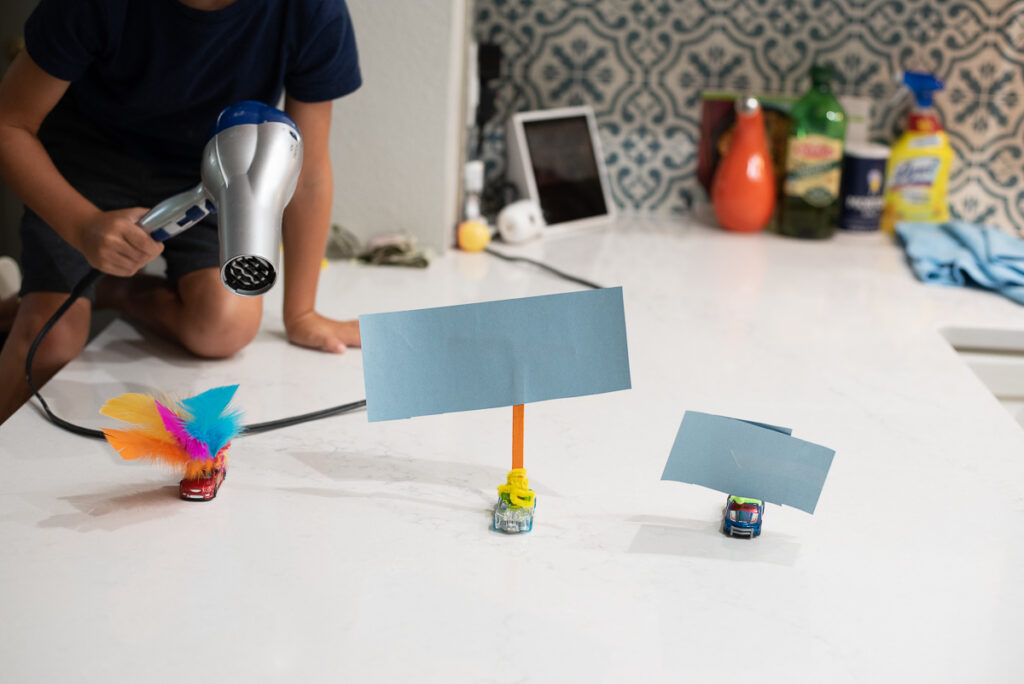 Watch the race and see which type of sails produce the fastest cars. Let the kids experiment with different materials and shapes to see who can design the fastest car.
I'm both sad and proud to say that my five year old won the race. 😉
Wind Powered Cars for Kids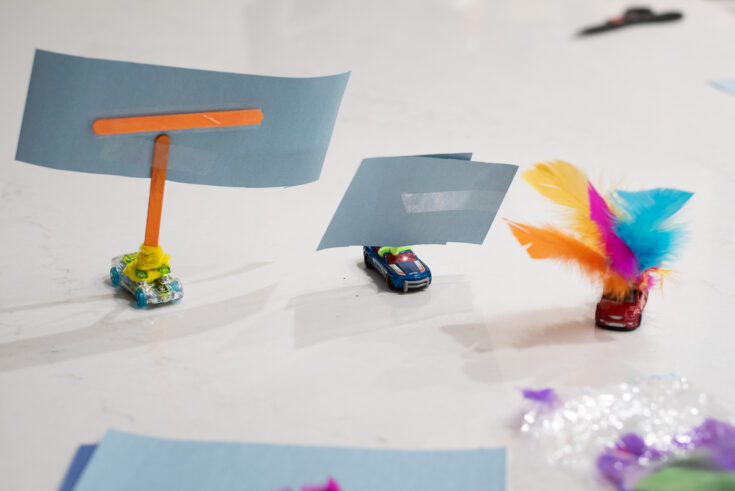 These wind powered cars are a fun and easy STEM activity for kids. All you need are a few toy cars, some basic craft supplies, and a hair dryer - and you're off to the races!
Materials
Toy Cars (such as Hot Wheels or Matchbox Cars)
Popsicle Sticks, Straws, and/or Pipe Cleaners
Construction Paper
Tape and/or Glue
Additional Crafts Supplies of Your Choice (Feathers, Ribbons, etc.)
Instructions
Use your craft supplies to add various types of "sails" onto your toy cars.
Popsicle sticks, straws, or pipe cleaners can be used to create the mast that holds up your sail.
Construction paper, feathers, and other supplies can be used to build different types of sails to catch the wind.
When your sails are securely attached to your cars (with glue or tape), use the hair dryer to blow the cars across a table. See which types of sails make for the fastest cars!
Notes
You can use anything you have available in the house to build your "sails" - so get creative!
Recommended Products
As an Amazon Associate and member of other affiliate programs, I earn from qualifying purchases.